New Orleans.
I've never been to New Orleans! Shocker apparently to most. It's always been on my list of places to go, but it just never happened. Mardi Gras was on my college bucket list, but work was always in the way. The thought of vibing out at Essence has always sounded awesome. But mostly the cuisine has been the biggest lure for me. To experience the culture of Creole food and hospitality. To have quite a few first moments such as, pigging out on crawfish at a Boil. Plus, New Orleans happens to have 3 restaurants that are on my "Hit List". With that being said, my husband (who has also never been), and I made the spontaneous decision to just book a trip. Late Friday through early Monday, about 50-60hrs total in the city, but I've always liked a challenged.
So I went to this Turquoise house for brunch on Sunday. A grand, picturesque, Victorian, proudly standing differently from all the other homes within eye sight. The porch wrapping around the house now being used as a waiting area for Valet, and a perfect spot for IG photoshoots. When going inside, we were happily greeted by the host and maitre'd, along with two servers that floated by. Our hostess, walked us through the first dining room below, which would have easily been the large living room if this was just a "house". Peaking around the corner, I get a quick glimpse of the famed "Garden Room" that was already booked out when I made our reservations. Heading up the steps to our table our ....
....before I get carried away by typing out in full detail my entire experience, I'll stop there. Too many words that even I wouldn't want to read if this was not my platform. I will however add that: the execution of service was beautiful, the food was delicious, and the band played "La Vie en Rose" for me. It was wonderful for me to be on the other side, and watch all the elements play out. "Hit List" restaurant #checked.
NOT PICTURED: Take some time, and go to the lower Ninth Ward. The Lower Ninth received the bulk of the damage from Hurricane Katrine, and was the last area to be rebuilt after.
There is an "Official" Memorial that I decided to not to visit. Instead I went to the Lower Ninth Ward Living Museum on Despond Street. The museum is kept inside a home, a home out of many that had to be rebuilt. Video interviews playing of various people's experiences, pictures giving a brief history of the Lower Ninth and N.O., plus a very humbling conversation with the museum host who grew up in the area.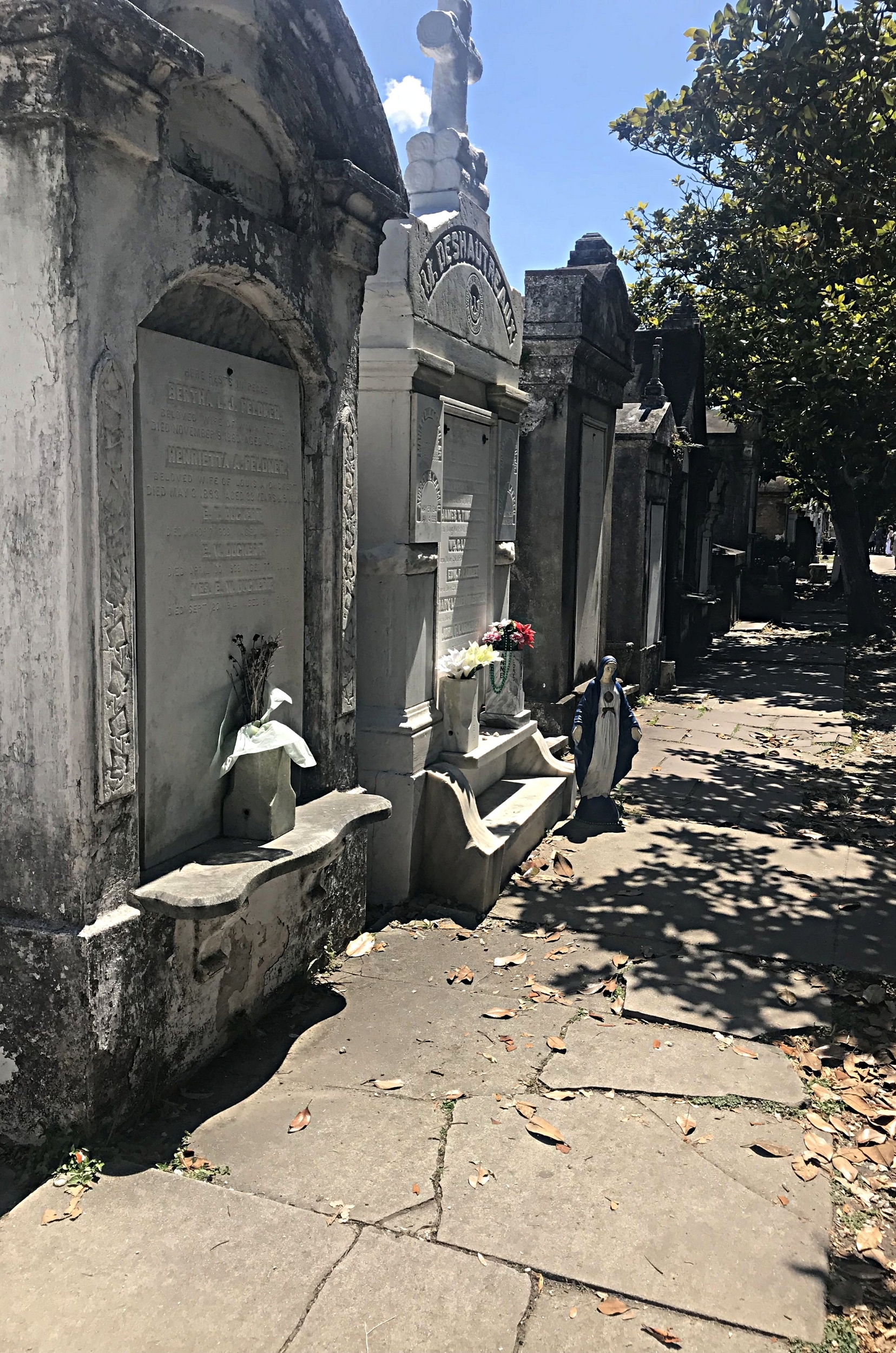 I never have the desire to walk around a cemetery. I will admit though that seeing all the graves buried on top of the ground instead of below it was...interesting. Built in a "cross-like" layout wiht four sections, Lafayette is the oldest cemetery in New Orleans.
Things that I didn't get to do that YOU should do!
Frenchman: I was told by almost everyone who knew that I was going to N.O. to side step Bourbon Street, and head over the the Frenchman area. Hop around to different locations to here live Jazz. During Jazz Fest, you can often catch some of the acts lingering around here as well.
Steamboat Ride: Now I don't want to get close to an alligator unless it's fried, but I'll take a cruise down the river from the safety of a boat.
Willie Mae's Scotch House: #HitList Home to the best fried chicken around, Willie Mae's opened back in 1957 as duel barbershop/beauty shop with a bar. Once the cosmetic aspect died away, in 1970 the demand for the food coming out the bar lead to a flourishing restaurant.
Popeyes: I love Popeyes. So much so, that I remember my roommate, and I freshman year of college taking a 45min walk fairly often just to make a biscuit run! I've always heard that it taste better in N.O.
Dooky Chase: Another one on my #HitList. Dooky Chase, open since 1941, became an epicenter for African American and Creole Cuisine. Thanks in large part to Leah Chase's innovative mind to transform her late husbands name sake restaurant from a sandwich shop, into one of America's first black, fine dining restaurant. -- Unfortunately, yet again hours of operation were not on my side. Open Tuesday- Friday. #funfact: Mrs. Chase was the inspiration behind the story plot to the New Orleans based, Princess and the Frog.
Another First for me...
Hospitality/Culinary people can sometimes be the worst people to out to eat with. We tend to over think the process based off of standards that we know to be true. Eventually, you being an Industry person who wants to socialize with others, try to learn to quite that voice, and just sit there and be in the moment.
You do; however, find comforts and enjoyment when you watch the room, finding little excitements in aspects of service being executed perfectly, or when the kitchen remembers to put your hot food on a hot plate...#winning. At the same time...we'll say hypothetically... you equally get disappointed, or frustrated when the simplest tasks of service are not met. Tasks such as: refilling the water glasses at least once, checking in after the food runner brings out the food, offering the dessert menu BEFORE bringing the check, or even the server just having a pleasurable attitude as opposed to a very obvious IDGAf demeanor from the moment he walks to the table. Now, very seldom is it your server's fault if the kitchen prepares your food less than desirable, but your server does have control over setting the tone of your experience.
I'll finish by saying this: If you have the option to go to Mulates, The Original Cajun Restaurant....don't.